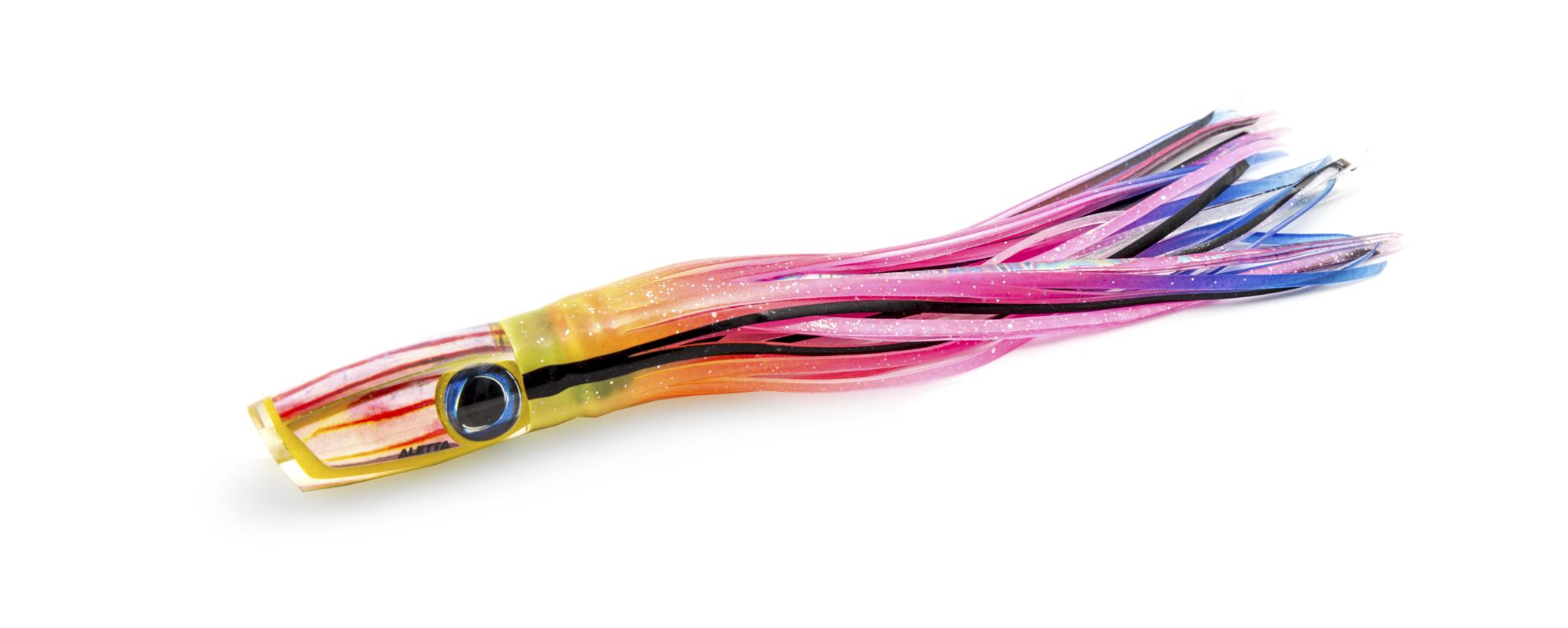 10" BARNABUS / banano rainbow
BARNABUS is the perfect lure to whet appetite. The shape and the angular cut of this lure, confer on it total freedom of movement, slamming up and down and from one side to the other. Its fine and straight sliced head at 20 degrees produces a very particular fan of clean water. Designed to perform fiercely in depths no greater than 15 cm, just within the reach of the largest predators seeking the bright contrast of light near the surface. Ideal speed: 7 to 9 knots.
TOTAL LENGHT: 250 mm. / 10"
MAX. HEAD DIAMETER: 24 mm.
WEIGHT:  2.65 oz.  (75 gr.)
RECOMMENDED RIGGING:   5/0 - 6/0 Hook + 100lb - 150lb. Leader
SPECIES PREFERENCE:
⋆⋆⋆⋆⋆Dorado  ⋆⋆⋆Sailfish  ⋆⋆⋆Bonito 
⋆⋆Tuna  ⋆⋆Marlin  ⋆⋆Wahoo ⋆Meckerel  ⋆Jacks
NOTES: THIS TABLE DOES NOT EXCLUDE ANY OTHER POSSIBLE SPECIES. ALETTA LURES ARE 100% HANDMADE PRODUCTS, MADE ONE BY ONE. DELIVERY TIMES MAY BE EXTENDED IN THE EVENT OF NOT HAVING THEM IN STOCK. THE COLORS AND TONES SHOWN THROUGH THE NETWORK CAN VARY LIGHTLY WITH THE REAL ONES. THE AVAILABILITY OF SKIRTS CAN DETERMINE THE EXISTENCE OF THE PRODUCT, AS SHOWN AT THE MOMENT OF MAKING YOUR ORDER. IN CASES LIKE THESE, ALETTA LURES® RESERVES THE RIGHT TO OFFER ITS CLIENTS COMBINATIONS OF SIMILAR COLORS TO THOSE SHOWN.